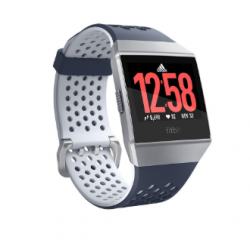 Fitbit Ionic Smart Fitness Watch (Adidas Edition)
| | | |
| --- | --- | --- |
| Terms | Monthly | Weekly |
| 6 mths: | | |
| 12 mths: | 78.00 | 19.50 |
| 18 mths: | | |
| 24 mths: | | |
| 30 mths: | | |
| 36 mths: | | |
Product Code:
Fitbit Ionic
Availability:
In Stock
Overview
Introducing Fitbit Ionic-the watch designed for your life. Find the guidance to reach your goals with dynamic personal coaching, built-in GPS and continuous heart rate. Stay motivated by storing and playing 300+ songs and get inspired by a global fitness community. Plus, get convenient access to popular apps, payments on your wrist and a battery life of 4+ days. -
Commit to extraordinary with Fitbit Ionic: adidas edition-a watch designed with exclusive experiences that help you reach the next level of performance.
- Battery life varies with use & other factors
Key Features
Adidas TrainAccess unique workouts with step-by-step coaching designed to make you a more dynamic runner.
Dynamic Personal WorkoutsStart dynamic personal coaching right on your wrist, complete with on-screen guidance during every move and routines that adapt based on your feedback.
Built-in GPSBuilt-in GPS with GLONASS lets you see pace, distance and other key stats on display, while also recording elevation climbed, split times & a map of your route.
GPS integrationFitbit Ionic integrated Bluetooth, Wi-Fi and a GPS antenna right into the unibody frame in order to create a much stronger connection with satellites in space and more accurate tracking.
Designed for FitnessDesigned for fitness, Fitbit Ionic takes workout tracking to the next level with dynamic personalized workouts, built-in GPS, multi-sport modes and SmartTrackTM automatic exercise recognition.
PurePulse Continuous Heart RateUse PurePulse continuous heart rate to better track calorie burn, optimize intensity during workouts, and measure your health and fitness over time.
Track Resting Heart RateGet insights on your cardiovascular health and fitness by tracking your resting heart rate and following your heart rate trends over time.
Multi-Sport + SmartTrackUse Run, Bike and other multi-sport modes to track specific workouts with real-time stats on display, or rely on SmartTrackTM to automatically record exercises for you.
Water-Resistant + Swim TrackingBuilt water-resistant to 50 meters, you can wear Fitbit Ionic in the pool, rain or during swim workouts to track laps, duration and calories burned.
Cardio Fitness Level
Get a better understanding of your fitness level and learn how you can improve over time with a personalized Cardio Fitness Score.
Guided Breathing SessionsFind moments of calm throughout the day by following personalized guided breathing sessions based on your heart rate.
All-Day Activity TrackingTrack all-day activity like steps, distance, floors climbed, active minutes and calories burned to see how every part of your day adds up.
Reminders to MoveGet onscreen Reminders to Move that help you to stay active throughout the day by encouraging you to mini-goals of 250 steps per hour.
Seamless Smart ExperiencesFitbit Ionic seamlessly delivers the best watch features with key notifications, access to your favourite apps, on-board music and built-in payments.
Smartphones NotificationsStay connected with call, text and calendar alerts, plus notifications from your favourite apps like Gmail and Facebook (when your phone is nearby).
Popular AppsGet instant access to important information like weather and fitness updates.
Stores & Play MusicWith Fitbit Ionic, you can store and play 300+ songs right from your wrist-giving you the motivation you need at a moments notice.
NFC-EnabledFitbit Ionic includes a built-in NFC chip, which lets you securely store and use your credit card right on the watch with the push of a button.
Sleep Tracking - OverallGet a better understanding of your sleep quality by seeing your total time asleep, your time spent in different sleep stages as well as time awake.
Sleep StagesUsing PurePulse heart rate, Fitbit Ionic tracks your time spent in light, deep and REM sleep stages to help you better understand your sleep quality.
Intelligent FrameFitbit Ionic was constructed with a watch body thats more intelligent than ever-packing GPS, NFC, on-board music and more inside a lightweight, durable and water-resistant design.
Redesigned Colour TouchscreenFitbit Ionics high-resolution colour touchscreen features scratch-proof Corning Gorilla Glass 3, crisp graphics and amplified brightness up to 1000 nits.
Clock FacesCustomize your Fitbit Ionic clock face with unique designs that range from sleek and understated to fun and fitness-focused.
Multi-Day Battery LifeA day lasts 24 hours. So should your watch. With a multi-day battery life of 4+ days, Fitbit Ionic tracks your morning, night & everything in between. (Varies with use & other factors)
Design & MaterialsAs Fitbits strongest, lightest GPS watch ever, Ionic features a sleek, unibody watch case made from aerospace-grade 6000 series aluminium.
Fitbit Flyer & Bluetooth HeadphonesBring music & audio coaching on your Ionic watch to life by connecting it to wireless Bluetooth headphones like Fitbit Flyer-designed specifically for fitness.
Wireless SyncAutomatically syncs to computers and 200+ Android, iPhone & Windows devices, to show your stats, trends and progress on your Fitbit dashboard.
Bands & AccessoriesWear Fitbit Ionic in a way thats all your own by using the quick release button to easily switch your band into sport, leather and other styles.
DashboardSet goals, track progress and get a complete picture of your health and fitness-from nutrition & hydration to exercise & sleep-all on the Fitbit dashboard.
Write a review
Your Name:
Your Review:
Note: HTML is not translated!
Rating:
Bad
Good
Enter the code in the box below:
*Name:
*Email:
*Enquiry
Enter the code in the box below: